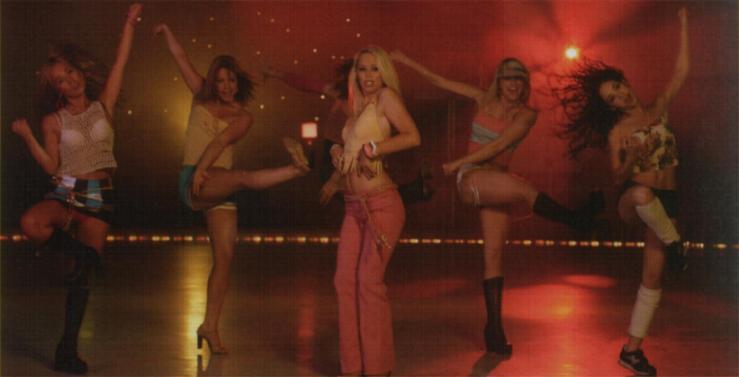 Home and Away's Bec Cartwright truly became a pop star when she recorded the video clip for her first song " All Seats Taken " at Majestic Roller-rink at Petersham in Sydney. Bec who had been to the skating rink once before for a '70's birthday party arrived at 7am on Sunday morning and had her hair and make-up done. Even though Bec hadn't slept for a couple of days because she was so excited to be making a music video, she was still her usual cheerful self. She changed into her first outfit for the day - a sheer black top, rolled up demin jeans and boots and was ready to get things going.
" The whole wardrobe has been picked out for me ", said Bec. " The only thing I'm wearing that I own are my bra, pants and bellybutton ring !" Then with her catchy song blaring in the background, Bec jumped behind a counter to stand near the racks of rollerskates just as the clip's director Simon Bookallil called " Action ". " I am having the best time ", squealed Bec. " So much fun !" She then danced solo on the counter and against the wall. " Then I jumped up on the ledge and rolled around. I'm struggling with this bit ", she admitted. " I don't even go to nightclubs, so dancing sexy is a really big stretch for me! I can't be sexy if I try. I just start laughing !"
The story of her " All Seats Taken " video is that a group of girls - including Bec - bump into some guys they think are hot. One of the boys has the keys to the roller-rink [ as you do! ] and lets them all in for some fun. The girls show off by doing a dance routine while the boys play inball. " It's really fun clip ", Bec explains. " I'm so happy with it ". After cavorting on the ledge, Bec changed into another outfit. This time it was a Britney - esque yellow midriff, pink jeans and caramel boots. Her hair and make-up was retouched and then she made her way downstairs to shoot the dancing scenes.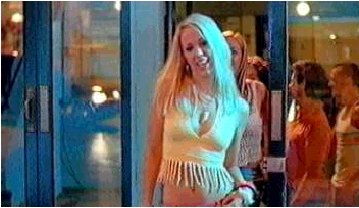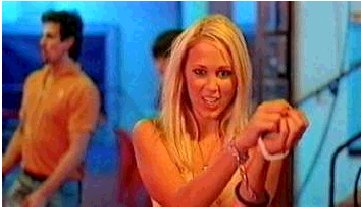 Her proud parents Michele and Darrel sat to the side watching Bec practice her dance routine and even brought strawberries for her to snack on when she had a chance. " Bec just loves strawberries! " said Ma Cartwright, who also commented that Bec who has been taking dance classes since she was a child, learnt the nifty dance break in a couple of hours from choreographer Michael Boyd. He even said that Bec was so good she didn't need to come back for any more rehearsals. Way to go Bec !
Then the cameras started rolling again and it was obvious to everyone that Bec aws in her element as she grooved away with her dancers in the background, singing along to " All Seats Taken ". Between takes Bec took the chance to watch some of the tales on the monitor and admitted to her dancers that since she started on Home and Away she had missed dancing so much and planned to take classes with Michael whenever she could from now on. " I just knew this was the perfect song foir me ", she said bursting with excitement. " And when I found out it had a dance break, it was just the icing on the cake ! I've been wanting to do something with my dancing for so long and now it's all just come together so perfectly ".
At the same time as Bec was filming, the hunky boys were doing their scenes near the pinball machine, so it was action aplenty. It got even more intense when one of the heavily pregnant music publicists had to leave in the middle of the shoot because her water broke and she had to get to hospital to have a baby. Sheesh, there's never a dull moment when Bec's around ! While the cameras were being moved to another position, Bec took the opportunity to have a quick read of the newspaper and even had a bit of a gossip about the horoscopes with her female dancers.
Bec filmed her dance from yet another position and then did a few different takes before calling it a day. " What did you think ?" Bec asked. We think it'll be a big hit, of course ! You go girl.