11.00 AM
After wrapping her interior scenes Bec roars off to Palm Beach in Sydney's north where all the exterior shots on Home and Away are filmed. It's about one hour's drive and she bops along cheerfully to the radio.
After grabbing a quickhealthy snack from the catering truck she gets ready for another couple of scenes with Ben Unwin who plays Jesse. She finishes filming for the day at 3.30pm.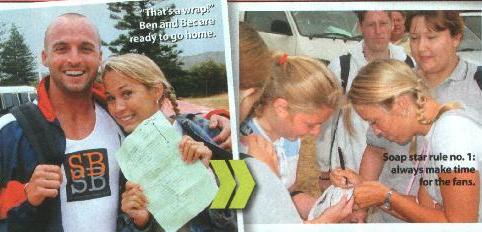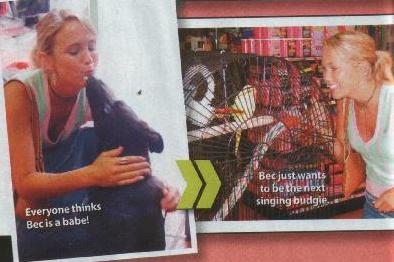 4.00 PM
Free from work commitments Bec drives back to the lazy beach suburb of Avalon on Sydney's northern beaches where she lives. She heads to the local pet store detouring to say hello to every dog wandering on the street. Bec is a huge animal lover and has dogs already but doesn't think she has enough time in her day for any more. Her solution ? Puppy sitting.
" I always stop in at the pet shop to see if there are any puppies there ", says Bec. " I puppy-sit for the shop. I pick the puppies up at 5.30pm when the shop closes and they give you food, water and a bed for them to lie on for the night and you bring them back by nine in the morning. It's great if you're interested in buying the pup to see how it goes. They know I'm not going to buy another dog but I'm a regular puppy sitter if I'm not starting too early the next day ".
6.00 PM
Shopping is another passion and Bec checks out one of her favourite stores before heading to the local juice bar.
" Avalon is a great place to live ", she says. " If I have breaks at Palm Beach or between the studio and Palm Beach I can stop in here. I love the village atmosphere ".
7.30 PM
By the time Bec gets home, Home and Away has already been on. " I don't really watch TV because I 've always got something to do - like tonight. I'm going to try to cook a zucchini and egg pie ".
With her energizer batteries still going Bec heads to the kitchen to start whipping up some dinner. After that she rehearses her lines for the following day and tries to squeeze in some sleep. " I go to bed about 10.30 or 11 pm ", she insists. " Well I try to ! "